Mandarin Orange Chicken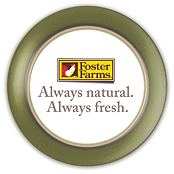 Servings: 4
Prep Time: 20 minutes
Cook Time: 25 minutes
User Rating:
Read User Reviews
Print:
3x5
,
4x6
,
full page
Copyright 2009 Allrecipes.com; by Tammie Bickar
Summary
Chicken breast halves are sauteed in hoisin sauce and orange juice with mandarin orange slices, green onions, and cashews. Serve over rice.
INGREDIENTS
1/4 cup all-purpose flour
4 skinless, boneless chicken breast halves - pounded to 1/4 inch thickness
2 tablespoons olive oil
2 tablespoons butter
1/3 cup hoisin sauce
1/3 cup orange juice
1 (11 ounce) can mandarin oranges, drained
1 tablespoon chopped green onions
1/4 cup chopped cashews
DIRECTIONS
1. Place flour in a small bowl. Dredge chicken in the flour to lightly coat.

2. Heat olive oil and butter in a medium skillet over medium heat, and saute the chicken breasts until no longer pink and juices run clear. Set aside, and keep warm.

3. Stir hoisin sauce and orange juice into the skillet, and scrape up the browned bits. Mix in mandarin oranges, green onions, and cashews, Return chicken to the skillet. Continue cooking until all ingredients are heated through.
NUTRITIONAL INFO
| | |
| --- | --- |
| calories | 403 cal |
| total fat | 18.8 g |
| cholesterol | 85 mg |
| sodium | 536 mg |
| carbohydrates | 27.7 g |
| fiber | 1.7 g |
| protein | 30.8 g |