Chicken Salad with Raspberry Orange Dressing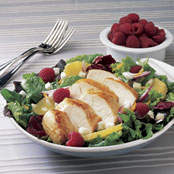 Summary
This tasty, easy to make salad uses our Foster Farms Fresh & Easy Boneless Skinless Breast Fillets. Topped with a homemade Raspberry Orange Dressing, this dish is sure to satisfy!
DIRECTIONS
1.To make the Raspberry-Orange Dressing: In a medium bowl, whisk together olive oil, grainy mustard, honey, raspberry vinegar, grated orange zest and juice, salt and pepper.

2.To make the chicken salad: In large frying pan over medium-high heat, spoon 2 tablespoons of the Raspberry-Orange dressing. Tear open two individually wrapped chicken pouches, cook topside down and sauté until golden brown. Turn breasts over, add orange juice, bring to a simmer and reduce heat to low. Cover pan and cook 20 minutes or until chicken is no longer pink inside.

3.Peel oranges and slice into rounds. In large bowl, place fennel and lettuce. Reserve 2 tablespoons of the dressing and toss remainder with lettuce. Arrange lettuce mixture on 4 chilled dinner plates. Slice chicken into thin strips and place with orange sections and onion slices on top of lettuce. Drizzle with reserved dressing and sprinkle raspberries on top.