Turkey Loaf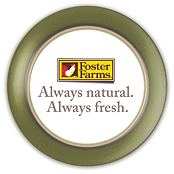 Servings: 8
Prep Time: 15 minutes
Cook Time: 90 minutes
User Rating:

Read User Reviews
Print:
3x5
,
4x6
,
full page
Copyright 2009 Allrecipes.com; by Amanda Fair
Summary
A straightforward loaf made with turkey - perfect as is, or as a starting point for kitchen experimentation! Great for sandwiches, too!
INGREDIENTS
1 1/2 pounds Foster Farms Fresh Ground Turkey 7% Fat
1 egg, lightly beaten
1 onion, chopped
1 1/2 cups bread crumbs, or as needed
2 teaspoons salt
ground black pepper to taste
1 tablespoon poultry seasoning
DIRECTIONS
1. Preheat oven to 350 degrees F (175 degrees C).

2. In a medium bowl, mix the turkey, egg, onion, and bread crumbs. Adjust the amount of bread crumbs as needed to make a stiff mixture. Season with salt and pepper. Transfer the mixture to a 9x5 inch loaf pan, and sprinkle with poultry seasoning.

3. Bake 1 1/2 hours in the preheated oven, or until meat is cooked through and the internal temperature is at least 170 degrees F (70 degrees C) when taken with a meat thermometer.
NUTRITIONAL INFO
| | |
| --- | --- |
| Calories | 296 cal |
| Total Fat | 13 g |
| Cholesterol | 113 mg |
| Sodium | 855 mg |
| Carbohydrates | 16.3 g |
| Fiber | 0.8 g |
| Protein | 26.8 g |