Buffalo Chicken Rolls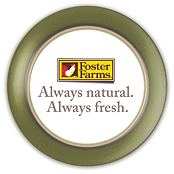 Servings: 4
Prep Time: 30 minutes
Cook Time: 35 minutes
User Rating:

Read User Reviews
Print:
3x5
,
4x6
,
full page
Copyright 2009 Allrecipes.com; by D and S Parker
Summary
Delicious chicken breasts marinated in hot sauce and filled with shredded Provolone cheese. Serve with Ranch or Blue Cheese dressing! Blue Cheese lovers may substitute Blue Cheese for the Provolone.
INGREDIENTS
Marinade:
4 Foster Farms Boneless Skinless Chicken Breast Fillets, pounded to 1/4-inch thickness
4 tablespoons butter, melted
1/2 cup hot sauce
Filling:
1/2 cup shredded provolone cheese
DIRECTIONS
1. In a small bowl, stir together the melted butter and hot sauce. Place chicken breasts in a glass bowl, and pour the sauce over. Turn to coat, cover and refrigerate for 15 to 20 minutes.

2. Preheat the oven to 400 degrees F (200 degrees C). Remove chicken breasts from the hot sauce, and place 1 tablespoon of cheese in the center of each one. Roll up, and secure with a toothpick. Repeat with remaining breasts, and place them seam side down in a glass baking dish.

3. Cover the dish, and bake for 30 minutes, or until chicken is fork tender. Increase the temperature of the oven to 450 degrees, and place the chicken 8-inches from the heat. Uncover, and bake for 5 minutes, until browned. Garnish with remaining shredded cheese, remove toothpicks, and serve with ranch or blue cheese dressing.
NUTRITIONAL INFO
| | |
| --- | --- |
| Calories | 293 cal |
| Total Fat | 17.5 g |
| Cholesterol | 111 mg |
| Sodium | 1078 mg |
| Carbohydrates | 0.9 g |
| Fiber | 0.3 g |
| Protein | 31.7 g |