Mexican Turkey Burgers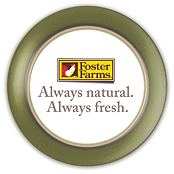 Servings: 6
Prep Time: 20 minutes
Cook Time: 25 minutes
User Rating:

Read User Reviews
Print:
3x5
,
4x6
,
full page
Copyright 2009 Allrecipes.com; by Daniel den Hoed
Summary
Inspired by Mexican tortillas, American burgers, and delicious breadcrumb coatings, I created this recipe. The whole family loves it, and whoever gets this recipe in hand passes it on. So I thought it was time to share it with you.
INGREDIENTS
Onion Mixture:
1 tablespoon olive oil
1 medium onion, finely chopped
1 medium green bell pepper, finely chopped
2 cloves garlic, minced
Salsa Mixture:
1 cup salsa
1 (15.25 ounce) can whole kernel corn, drained
Turkey Patties:
1 pound Foster Farms Fresh Ground Turkey 7% Fat
1 (1.25 ounce) package taco seasoning mix
1/3 cup dry bread crumbs
Other:
6 (10-inch) flour tortillas
6 tablespoons sour cream
2 cups shredded lettuce
DIRECTIONS
1. Preheat oven to 450 degrees F (230 degrees C). Coat a medium baking dish with cooking spray.

2. Heat the olive oil in a skillet over medium heat, and saute the onion, green pepper, and garlic 5 minutes. Remove from heat, and cool slightly.

3. In a small bowl, mix the salsa and 1/2 the corn.

4. In a large bowl, mix the onion mixture with the turkey, taco seasoning, and 2 tablespoons of the salsa mixture. Divide into 6 patties, and press into the breadcrumbs to lightly coat on all sides. Arrange coated patties in the prepared baking dish.

5. Bake the patties 10 minutes in the preheated oven. Drain any liquid from the dish, turn patties, and spread with the remaining salsa mixture. Continue baking 10 minutes, to an internal temperature of 165 degrees F (75 degrees C).

6. Warm the tortillas in the microwave, about 30 seconds on High. Wrap the cooked turkey patties in the warmed tortillas with sour cream and lettuce. Sprinkle with remaining corn to serve.
NUTRITIONAL INFO
| | |
| --- | --- |
| Calories | 543 cal |
| Total Fat | 18.8 g |
| Cholesterol | 62 mg |
| Sodium | 1229 mg |
| Carbohydrates | 68.4 g |
| Fiber | 5.6 g |
| Protein | 25.5 g |