Turkey Tofu Meatloaf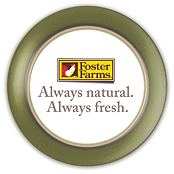 Servings: 12
Prep Time: 15 minutes
Cook Time: 45 minutes
User Rating:

Read User Reviews
Print:
3x5
,
4x6
,
full page
Copyright 2009 Allrecipes.com; by MAKANANI
Summary
Turkey and tofu are baked into a juicy loaf, and drizzled with a brown sugar and soy sauce glaze.
INGREDIENTS
Turkey Meatloaf:
2 pounds Foster Farms Fresh Ground Turkey 7% Fat
1 (14 ounce) package firm tofu, drained and mashed
1/2 cup dry bread crumbs
1 (1 ounce) envelope dry onion soup mix
1/4 cup minced green bell pepper
2 eggs beaten
Sauce:
1/4 cup brown sugar
1/4 cup soy sauce
1 teaspoon prepared yellow mustard
DIRECTIONS
1. Preheat oven to 350 degrees F (175 degrees C). Lightly grease a 9-inch square baking dish.

2. In a bowl, mix the tofu, turkey, bread crumbs, soup mix, green pepper, and eggs. Place the mixture into the prepared pan, and mold into a loaf shape.

3. In a saucepan over low heat, blend the brown sugar, soy sauce, and mustard.

4. Bake the meatloaf 30 minutes in the preheated oven. Drizzle with the sauce mixture, and continue baking 15 minutes, or to an internal temperature of 180 degrees F (80 degrees C).
NUTRITIONAL INFO
| | |
| --- | --- |
| Calories | 212 cal |
| Total Fat | 10.3 g |
| Cholesterol | 95 mg |
| Sodium | 641 mg |
| Carbohydrates | 9.9 g |
| Fiber | 1.1 g |
| Protein | 20.5 g |