Chicken Stir Fry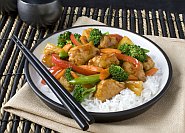 INGREDIENTS
2 tsp sesame oil
18 oz Foster Farms Roasted Breast Chunks
12 oz bag broccoli stir fry mix
1 28oz can pineapple chunks
1 tbsp corn starch
1 tbsp rice vinegar
2 1/2 tbsp soy sauce
1/2 tsp red pepper
1/4 tsp ginger
1/2 tsp onion powder
1/2 cup water
DIRECTIONS
Stir fry broccoli mix in sesame oil until tender. Drain pineapple chunks and save juice. Add together chicken, cooked broccoli and pineapple in fry pan or wok.

In separate bowl, mix together pineapple juice, cornstarch, vinegar, red pepper, ginger onion powder and water. Add mixture to chicken, broccoli and pineapple. Mix together well and bring to a boil. Lower heat and cover for several minutes.

Serve over cooked rice.