Sassy Chicken Enchilada Dip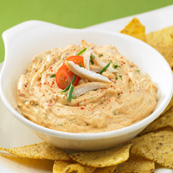 Servings: 16
Prep Time: 135 minutes
User Rating:

Read User Reviews
Print:
3x5
,
4x6
,
full page
Copyright 2009 Allrecipes.com; by MICHELLEC2
Summary
Zesty Southwest flavorings make this creamy chicken dip as unique as it is delicious. Serve with tortilla chips.
INGREDIENTS
3 Foster Farms Boneless Skinless Breast Fillets, cooked and shredded
2 (8 ounce) packages light cream cheese, softened
4 green onions, chopped
1 (10 ounce) can diced tomatoes with green chile peppers
1 teaspoon minced garlic
1 teaspoon chopped cilantro
1 tablespoon chili powder
1 teaspoon cumin
1 teaspoon dried oregano
1 teaspoon paprika
DIRECTIONS
1. In a bowl, mix the shredded chicken, light cream cheese, green onions, diced tomatoes with green chile peppers, garlic, and cilantro. Season with chili powder, cumin, oregano, and paprika. Cover, and chill at least 2 hours.
NUTRITIONAL INFO
| | |
| --- | --- |
| Calories | 110 cal |
| Total Fat | 6.7 g |
| Cholesterol | 31 mg |
| Sodium | 173 mg |
| Carbohydrates | 3.4 g |
| Fiber | 0.5 g |
| Protein | 9 g |