Oven Roasted Stuffed Chicken Breasts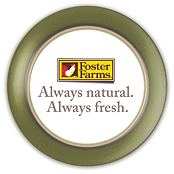 Servings: 6
Prep Time: 30 minutes
Cook Time: 45 minutes
User Rating:

Read User Reviews
Print:
3x5
,
4x6
,
full page
Copyright 2009 Allrecipes.com; by RJTSHANEY
Summary
This recipe always impresses dinner guests! Chicken breasts are stuffed with a ricotta cheese and walnut mixture.
INGREDIENTS
Stuffing:
1 cup part skim milk ricotta cheese
3/4 cup finely chopped walnuts
1/2 cup grated Parmesan cheese
1/2 cup dry bread crumbs
1 teaspoon dried oregano
Chicken:
6 Foster Farms Skin-on Chicken Breast Fillets
2 tablespoons vegetable oil
USER NOTES & RATINGS
8/26/2006 Reviewed by Peter Jay

Rate and add Comments
DIRECTIONS
1. Preheat oven to 350 degrees F (175 degrees C). Lightly grease a large baking dish.

2. In a bowl, mix the ricotta cheese, walnuts, Parmesan cheese, bread crumbs, and oregano.

3. Loosen the skin on the chicken breasts to form a pocket, and stuff with the ricotta cheese mixture. Arrange the chicken breasts in a single layer in the prepared baking dish, and brush with oil.

4. Bake 45 minutes in the preheated oven, or until the chicken is no longer pink and juices run clear.
NUTRITIONAL INFO
| | |
| --- | --- |
| Calories | 415 cal |
| Total Fat | 26.4 g |
| Cholesterol | 79 mg |
| Sodium | 333 mg |
| Carbohydrates | 11.2 g |
| Fiber | 1.3 g |
| Protein | 33.2 g |