Incredibly Cheesy Turkey Meatloaf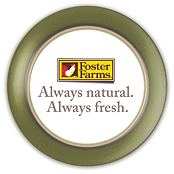 Servings: 8
Prep Time: 15 minutes
Cook Time: 60 minutes
User Rating:

Read User Reviews
Print:
3x5
,
4x6
,
full page
Copyright 2009 Allrecipes.com; by BrookeNJohnston
Summary
This incredible meatloaf is sure to be a family favorite. It's SIMPLE to make using turkey, loads of cheese, and Italian bread crumbs.
INGREDIENTS
2 pounds Foster Farms Fresh Ground Turkey 7% Fat
1 cup milk
1 cup Italian seasoned bread crumbs
2 eggs
1 teaspoon salt
1/4 teaspoon pepper
3/4 pound Colby cheese, cut into 1/2-inch cubes
1/2 cup ketchup (optional)
DIRECTIONS
1. Preheat oven to 400 degrees F (200 degrees C). 2. In a bowl, mix the turkey, milk, bread crumbs, and eggs by hand. Season with salt and pepper. Fold the cheese cubes into the mixture. Transfer to a loaf pan, and top with ketchup. 3. Bake 1 hour in the preheated oven, to an internal temperature of 180 degrees F (85 degrees C).
NUTRITIONAL INFO
| | |
| --- | --- |
| Calories | 466 cal |
| Total Fat | 26.8 g |
| Cholesterol | 180 mg |
| Sodium | 1242 mg |
| Carbohydrates | 17.4 g |
| Fiber | 0.8 g |
| Protein | 37.5 g |