Chicken Jambalaya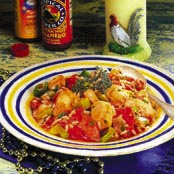 Summary
A combination of cayenne pepper, garlic, oregano, tomato, and bell pepper brings the taste of this dish to life.
INGREDIENTS
6 Foster Farms Fresh & Easy Boneless, Skinless Chicken Thighs, cut into 1-inch chunks
1 14-ounce whole, peeled plum tomatoes, with juice
1 14-ounce can tomato sauce
2 cups chicken broth
4 scallions, chopped
1 cup long-grain rice
Stew:
2 tsps canola oil
1 cup andouille sausage, chunked
1 onion, chopped
1 celery stalk, chopped
1 green pepper, chopped
Seasonings:
1/2 tsp cayenne pepper
1 tsps thyme, minced
1 tsps oregano, minced
1 tsps salt
1/2 tsps black pepper
2 cloves garlic, minced
DIRECTIONS
1. In a large saucepan, warm canola oil over medium heat. Add sausage; saute until crispy on the edges, about 8 minutes. Stir in onion, celery, green pepper; saute until tender, about 5 minutes.

2. Increase heat to medium-high, add chicken thighs and saute until lightly browned, about 8 minutes.

3. Return heat to medium; stir in cayenne pepper, thyme, oregano, salt, pepper and garlic. Continue sauteing about 3 more minutes.

4. Stir in tomatoes with their juices, tomato sauce, chicken broth, scallions and rice. Bring to a simmer; reduce heat to very low, cover and cook for 20 minutes.
NUTRITIONAL INFO
| | |
| --- | --- |
| Calories | 613 |
| Total Fat | 24 g |
| Saturated Fat | 2 g |
| Carbohydrates | 55 g |
| Vitamin A | 41 % |
| Vitamin C | 100 % |