Kathy's Delicious Whole Slow Cooker Chicken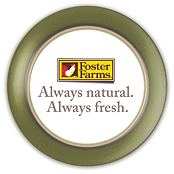 Servings: 6
Prep Time: 15 minutes
Cook Time: 480 minutes
User Rating:

Read User Reviews
Print:
3x5
,
4x6
,
full page
Copyright 2009 Allrecipes.com; by KATHYP100
Summary
A delicious and simple whole chicken recipe for the slow cooker that is simmered in a zesty sauce combination of balsamic vinegar, soy sauce, and lemon juice, with honey, garlic, and sesame and olive oils. Delicious served over jasmine rice!
INGREDIENTS
1 (3 pound) Foster Farms Whole Young Chicken, skin removed
1/2 cup chicken broth
1/3 cup soy sauce
1/3 cup olive oil
1/4 cup honey
1 teaspoon Worcestershire sauce
2 teaspoons balsamic vinegar
2 teaspoons lemon juice
1 teaspoon sesame oil
2 tablespoons minced garlic
USER NOTES & RATINGS
8/11/2005 Reviewed by Tifannie

Rate and add Comments
DIRECTIONS
1. Remove skin from chicken, and empty inner cavity of contents within. Pat chicken dry with a paper towel, and place inside the slow cooker.

2. In a bowl, stir together the chicken broth, soy sauce, olive oil, honey, Worcestershire sauce, balsamic vinegar, lemon juice, sesame oil, and minced garlic. Pour mixture over chicken, and cover.

3. Cook chicken on low setting for 8 hours, or 4 hours on high setting.
NUTRITIONAL INFO
| | |
| --- | --- |
| Calories | 394 cal |
| Total Fat | 27.7 g |
| Cholesterol | 62 mg |
| Sodium | 961 mg |
| Carbohydrates | 14.4 g |
| Fiber | 0.2 g |
| Protein | 22.1 g |