Tangy Turkey and Swiss Sandwiches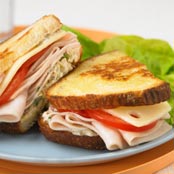 Servings: 4
Prep Time: 15 minutes
Cook Time: 10 minutes
User Rating:

Read User Reviews
Print:
3x5
,
4x6
,
full page
Copyright 2009 Allrecipes.com; by Annie
Summary
These sandwiches are absolutely AMAZING!! The combination of ingredients with a special sandwich spread helps to create a taste beyond compare. A true delicacy. Garnish with a kosher dill pickle and enjoy!
INGREDIENTS
3/4 cup chopped red onion
1 tablespoon dried thyme
1/2 cup mayonnaise
1/4 cup coarse-grain brown mustard
8 slices country style French Bread
6 tablespoons butter, softened
1 pound Foster Farms Oven Roasted Turkey Breast
8 slices tomato
8 slices Swiss cheese
USER NOTES & RATINGS
11/19/2008 Reviewed by SUSAN DELASHMUTT

Rate and add Comments
DIRECTIONS
1. In a small bowl, stir together the red onion, thyme, mayonnaise and mustard. Spread some of this mixture onto one side of each slice of bread. Spread butter onto the other side of the slices of bread.

2. Heat a large skillet over medium heat. Place 4 slices of the bread into the skillet with the butter side down. On each slice of bread, layer 1/4 of the sliced turkey, then 2 slices of tomato, and top with 2 slices of Swiss cheese. Place remaining slices of bread over the top with the butter side up. When the bottoms of the sandwiches are golden brown, flip over, and cook until golden on the other side.
NUTRITIONAL INFO
| | |
| --- | --- |
| Calories | 847 cal |
| Total Fat | 59.4 g |
| Cholesterol | 161 mg |
| Sodium | 2316 mg |
| Carbohydrates | 39.2 g |
| Fiber | 3.1 g |
| Protein | 41.4 g |