Jamaican Jerked Chicken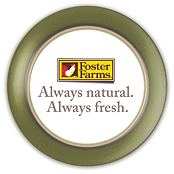 Servings: 3
Prep Time: 10 minutes
Cook Time: 20 minutes
User Rating:

Read User Reviews
Print:
3x5
,
4x6
,
full page
Copyright 2009 Allrecipes.com; by Cathy Anderson
Summary
An easy homemade jerk sauce of soy, lime, orange juice and lots of sweet-hot spices makes a mouthwatering pre-barbecue marinade for chicken.
INGREDIENTS
1 (2 to 3 pound) Foster Farms Whole Cut Up Chicken, cut into pieces
Marinade
1/2 green onion, minced
1/4 cup orange juice
1 tablespoon minced fresh ginger root
1 tablespoon minced jalapeno peppers
1 tablespoon lime juice
1 tablespoon soy sauce
1 clove garlic, minced
1 teaspoon ground allspice
1/4 teaspoon ground cinnamon
1/2 teaspoon ground cloves
DIRECTIONS
1. Combine green onions, orange juice, ginger, hot pepper, lemon or lime juice, soy sauce, garlic, allspice, cinnamon and cloves.

2. Add chicken, and marinate for 8 hours. Prepare barbecue, medium heat.

3. Cook chicken, and drizzle with left over marinade that has been boiled for 2 to 3 minutes.
NUTRITIONAL INFO
| | |
| --- | --- |
| Calories | 834 cal |
| Total Fat | 57.2 g |
| Cholesterol | 284 mg |
| Sodium | 572 mg |
| Carbohydrates | 4.8 g |
| Fiber | 0.6 g |
| Protein | 71 g |