Pollo Fajitas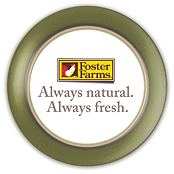 Servings: 5
Prep Time: 15 minutes
Cook Time: 10 minutes
User Rating:
Read User Reviews
Print:
3x5
,
4x6
,
full page
Copyright 2009 Allrecipes.com; by Teresa C. Rouzer
Summary
Fajitas at home! Chicken briefly steeps in a zesty marinade before a saute with onions and peppers in this faithful rendition of a Mexican favorite. Serve with warm flour tortillas, salsa and sour cream to complete the picture.
INGREDIENTS
1 1/2 pounds Foster Farms boneless, skinless chicken thighs, cut into strips
1 tablespoon Worcestershire sauce
1 tablespoon cider vinegar
1 tablespoon soy sauce
1 teaspoon chili powder
1 clove garlic, minced
1 dash hot pepper sauce
1 tablespoon vegetable oil
onion, thinly sliced
1 green bell pepper, sliced
1/2 lemon, juiced
USER NOTES & RATINGS
8/4/2011 Reviewed by Diane

6/9/2009 Reviewed by casey dohring

Rate and add Comments
DIRECTIONS
1. In a medium bowl, combine Worcestershire sauce, vinegar, soy sauce, chili powder, garlic and hot pepper sauce. Place chicken in sauce, and turn once to coat. Marinate for 30 minutes at room temperature, or cover and refrigerate for several hours.

2. Heat oil in a large skillet over high heat. Add chicken strips to the pan, and saute for 5 minutes. Add the onion and green pepper, and saute another 3 minutes. Remove from heat, and sprinkle with lemon juice.
NUTRITIONAL INFO
| | |
| --- | --- |
| calories | 210 cal |
| total fat | 8.3 g |
| cholesterol | 113 mg |
| sodium | 346 mg |
| carbohydrates | 6.1 g |
| fiber | 1.6 g |
| protein | 27.6 g |