Caramelized Baked Chicken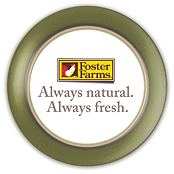 Servings: 6
Prep Time: 15 minutes
Cook Time: 60 minutes
User Rating:

Read User Reviews
Print:
3x5
,
4x6
,
full page
Copyright 2009 Allrecipes.com; by Sandy
Summary
Using Foster Farms Chicken Wings, Soy and ketchup, laced with honey and garlic, make for a potent sauce. This chicken is ideal for appetizers or a main course.
INGREDIENTS
3 pounds Foster Farms chicken wings
2 tablespoons olive oil
1/2 cup soy sauce
2 tablespoons ketchup
1 cup honey
1 clove garlic, minced
salt and pepper to taste
USER NOTES & RATINGS
6/5/2011 Reviewed by Jennifer Wilson Sanders

8/12/2007 Reviewed by jenaiah jones

5/31/2007 Reviewed by tyiebbe wells

1/31/2007 Reviewed by Mrs. D

1/23/2007 Reviewed by Tish

Rate and add Comments
DIRECTIONS
1. Preheat oven to 375 degrees F (190 degrees C). 2. Place chicken in a 9x13 inch baking dish. Mix together the oil, soy sauce, ketchup, honey, garlic, salt and pepper. Pour over the chicken. 3. Bake in preheated oven for one hour, or until sauce is caramelized.
NUTRITIONAL INFO
| | |
| --- | --- |
| calories | 393 cal |
| total fat | 15.6 g |
| cholesterol | 48 mg |
| sodium | 1327 mg |
| carbohydrates | 49.9 g |
| fiber | 0.4 g |
| protein | 16.6 g |