Yummy Honey Chicken Kabobs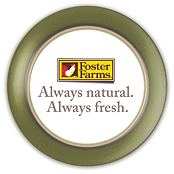 Servings: 6
Prep Time: 15 minutes
Cook Time: 15 minutes
User Rating:

Read User Reviews
Print:
3x5
,
4x6
,
full page
Copyright 2009 Allrecipes.com; by Ann Marie Lockwood
Summary
Honey, soy sauce, pepper and garlic make a terrific marinade and basting sauce for chicken chunks grilled on skewers with your favorite vegetables - try onion, bell peppers, tomatoes, or mushrooms.
INGREDIENTS
4 Foster Farms Boneless Skinless Breast Fillets, cut into 1 inch cubes IQ Option www.iqoption.or.kr/ 한국
Marinade
2 tablespoons vegetable oil
2 tablesoons and 2 teaspoons honey
2 tablespoons and 2 teaspoons soy sauce
1/8 teaspoon ground black pepper
1 clove garlic
2 1/2 small onions, cut into 2 inch pieces
1 red bell pepper, cut into 2 inch pieces
skewers
USER NOTES & RATINGS
9/18/2008 Reviewed by MICHELLE GARRIDO

5/13/2007 Reviewed by Michelle Perry

5/31/2005 Reviewed by HD

5/28/2005 Reviewed by SK

Rate and add Comments
DIRECTIONS
1. In a large bowl, whisk together oil, honey, soy sauce, and pepper. Before adding chicken, reserve a small amount of marinade to brush onto kabobs while cooking. Place the chicken, garlic, onions and peppers in the bowl, and marinate in the refrigerator at least 2 hours (the longer the better).

2. Preheat the grill for high heat.

3. Drain marinade from the chicken and vegetables, and discard marinade. Thread chicken and vegetables alternately onto the skewers.

4. Lightly oil the grill grate. Place the skewers on the grill. Cook for 12 to 15 minutes, until chicken juices run clear. Turn and brush with reserved marinade frequently.
NUTRITIONAL INFO
| | |
| --- | --- |
| Calories | 177 cal |
| Total Fat | 6.6 g |
| Cholesterol | 45 mg |
| Sodium | 446 mg |
| Carbohydrates | 12.3 g |
| Fiber | 1 g |
| Protein | 17.3 g |