Baked Slow Cooker Chicken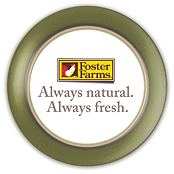 Servings: 6
Prep Time: 20 minutes
Cook Time: 600 minutes
User Rating:

Read User Reviews
Print:
3x5
,
4x6
,
full page
Copyright 2009 Allrecipes.com; by ''''Cotton'''' Couch
Summary
Chicken with a spark of paprika, slow-cooked to tender succulence.
INGREDIENTS
1 (2 to 3 pound) Foster Farms Whole Young Chicken
salt and pepper to taste
1 teaspoon paprika
USER NOTES & RATINGS
4/25/2007 Reviewed by Janice Herd

Rate and add Comments
DIRECTIONS
1. Wad three pieces of aluminum foil into 3 to 4 inch balls, and place them in the bottom of the slow cooker.

2. Rinse the chicken, inside and out, under cold running water. Pat dry with paper towels. Season the chicken with the salt, pepper and paprika, and place in the slow cooker on top of the crumbled aluminum foil.

3. Set the slow cooker to High for 1 hour, then turn down to Low for about 8 to 10 hours, or until the chicken is no longer pink and the juices run clear.
NUTRITIONAL INFO
| | |
| --- | --- |
| Calories | 408 cal |
| Total Fat | 28.5 g |
| Cholesterol | 142 mg |
| Sodium | 133 mg |
| Carbohydrates | 0.2 g |
| Fiber | 0.1 g |
| Protein | 35.2 g |