Spinach Ranch Salad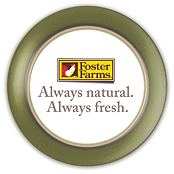 Summary
A great way to use up leftover chicken breasts. This simple salad combines cooked, chopped chicken with spinach, cucumber, broccoli, feta cheese, red onion and bacon; tossed with ranch dressing.
INGREDIENTS
1 package Foster Farms Grilled Chicken Breast Strips
4 cups baby spinach, rinsed and dried
1/2 cup cucumber
1 cup broccoli florets
1/2 cup feta cheese, crumbled
1/4 red onion, chopped
bacon bits
1/2 cup ranch dressing
DIRECTIONS
1. Toss together spinach, cucumber, broccoli, feta, onion, chicken, and bacon in a large bowl. Pour dressing over salad, and gently toss again.
NUTRITIONAL INFO
| | |
| --- | --- |
| calories | 260 cal |
| total fat | 22.8 g |
| cholesterol | 41 mg |
| sodium | 802 mg |
| carbohydrates | 6.1 g |
| fiber | 1.8 g |
| protein | 8.4 g |