Cindy's Tasty Wings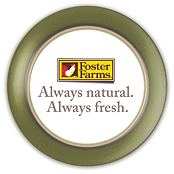 Servings: 4
Prep Time: 15 minutes
Cook Time: 60 minutes
User Rating:

Read User Reviews
Print:
3x5
,
4x6
,
full page
Copyright 2009 Allrecipes.com; by Cindy White
Summary
A popular appetizer featuring a sweet-and-sour sauce quickly assembled from onion soup mix, apricot jam and bottled salad dressing.
INGREDIENTS
5 pounds Foster Farms Chicken Wings
1 cup apricot preserves
1 (1 ounce) package dry onion soup mix
1 (16 ounce) bottle Catalina salad dressing
USER NOTES & RATINGS
7/29/2005 Reviewed by debbie

6/22/2005 Reviewed by Donis

Rate and add Comments
DIRECTIONS
1. Preheat oven to 400 degrees F (200 degrees C).

2. Cut the chicken wings into individual pieces and place on a lightly greased cookie sheet (you may need two cookie sheets).

3. Spread apricot preserves over wings. Sprinkle dry onion soup mix over wings, then pour Catalina dressing all over. Bake in the preheated oven for 1 hour.
NUTRITIONAL INFO
| | |
| --- | --- |
| Calories | 1946 cal |
| Total Fat | 129.3 g |
| Cholesterol | 437 mg |
| Sodium | 2153 mg |
| Carbohydrates | 84.1 g |
| Fiber | 0.4 g |
| Protein | 104.5 g |