Turkey Tacos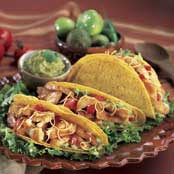 Servings:
Prep Time: 10 minutes
Cook Time: 10 minutes
User Rating:

Read User Reviews
Print:
3x5
,
4x6
,
full page
Foster Farms Recipe
Summary
Make quick and easy tacos with Foster Farms turkey tenderloins! This dish is stove top cooked, with an easy to follow recipe.
INGREDIENTS
1 1/4 pounds Foster Farms Fresh Turkey Tenderloins or Ground Turkey
3 tomatoes, chopped
1/4 head iceberg lettuce
1 onion, finely chopped
1 garlic clove, crushed
1 fresh green chili, cored, seeded and finely chopped
1 tablespoon fresh cilantro, chopped
6 taco shells or flour tortillas
2/3 cup sour cream
2 tablespoons olive oil
1 cup shredded cheese
salt and pepper to taste
USER NOTES & RATINGS
6/27/2005 Reviewed by Anonymous

Rate and add Comments
DIRECTIONS
1. Finely chop tomatoes and set aside. Finely shred lettuce and set aside. Shred cheese, set aside.

2. Heat oil in skillet, and add onion, garlic, and chili and cook, stirring occasionally for 5 minutes or until soft.

3. Add turkey, season with salt and pepper to taste. Cook until done, stir in cilantro and keep warm.

4. Warm the taco shells. Spoon the turkey mixture into shells. Top with lettuce, tomatoes, cheese and sour cream.