Holiday Champagne Turkey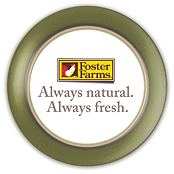 Servings: 16
Prep Time: 20 minutes
Cook Time: 210 minutes
User Rating:

Read User Reviews
Print:
3x5
,
4x6
,
full page
Copyright 2009 Allrecipes.com; by Sarah
Summary
A bottle of champagne is the secret to this moist turkey stuffed with apples and baked in an oven bag.
INGREDIENTS
1 (12 pound) Foster Farms Fresh Whole Turkey, neck and giblets removed
1/2 cup butter, cubed
2 apples, cored and halved
1 tablespoon garlic powder
salt and pepper to taste
2/3 (750 milliliter) bottle champagne
DIRECTIONS
1. Preheat oven to 350 degrees F (175 degrees C).

2. Rinse turkey, and pat dry. Gently loosen turkey breast skin, and insert pieces of butter between the skin and breast. Place apples inside the turkey's cavity. Sprinkle with garlic powder, salt, and pepper. Place turkey in a roasting bag, and pour champagne over the inside and outside of the bird. Close bag, and place turkey in a roasting pan.

3. Bake turkey 3 to 3 1/2 hours in the preheated oven, or until the internal temperature is 180 degrees F (85 degrees C) when measured in the meatiest part of the thigh. Remove turkey from bag, and let stand for at least 20 minutes before carving.
NUTRITIONAL INFO
| | |
| --- | --- |
| Calories | 588 cal |
| Total Fat | 29.4 g |
| Cholesterol | 214 mg |
| Sodium | 226 mg |
| Carbohydrates | 3.4 g |
| Fiber | 0.5 g |
| Protein | 68.2 g |