Mom's Best Chicken Scallopini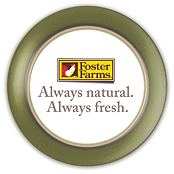 Servings: 4
Prep Time: 10 minutes
Cook Time: 30 minutes
User Rating:

Read User Reviews
Print:
3x5
,
4x6
,
full page
Foster Farms Recipe by Jeanette Hudson
Summary
And the Winner Is.......... Jeanette Hudson's "Mom's Best Chicken Scaloppini" was the winner of the NBC Universal / Foster Farms "Super Mom" recipe contest. Jeanette's winning recipe was selected from over 100 entries. After filming a television commercial in Los Angeles, Jeanette is off to New York City for cooking classes at the prestigious Institute of Culinary Education. A native of Gilroy, Californi, Jeanette's surefire dish can be a winner with your family too!
INGREDIENTS
USER NOTES & RATINGS
3/8/2012 Reviewed by laura tolero

3/3/2012 Reviewed by Vicki Carroll

8/17/2009 Reviewed by M Elliott

Rate and add Comments
DIRECTIONS

1. Mix flour, salt, pepper, and paprika. Coat chicken with the flour mixture.

2. Heat half the oil (2 tablespoons) in a large skillet over medium-high heat. Cook half of the chicken until brown.

3. Remove from skillet and keep warm.

4. Repeat with remaining oil and chicken.

5. Add the wine to the skillet and scrape the brown particles from the skillet.

6. Add the chicken and tomato sauce, simmering on low heat for 20 minutes.

7. Add peas and mushrooms and cook until heated through, about 5-10 minutes.