Savory Turkey Brine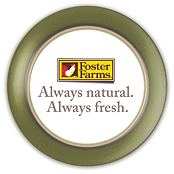 Summary
For the juiciest turkey, start with this savory brine recipe.
INGREDIENTS
1 16 to 24 pound Foster Farms Fresh Turkey
2 gallons cold water
10 ounces Kikkoman Soy Sauce
1/2 cup kosher salt
1/2 cup sugar
2 tablespoons dried sage
2 tablespoons dried celery seed
1 tablespoon dried thyme
DIRECTIONS
The night before roasting, remove giblets and turkey neck; rinse turkey inside and out. In a large stockpot, or 5-gallon bucket, mix water with remaining ingredients. Stir well until all the salt is dissolved. Place turkey in the pot, cover with a lid and refrigerate overnight, or at least 8 hours. Remove turkey from the brine, rinse well. Follow our easy roasting instructions on the back of the turkey bag.