Honey Orange Basil Chicken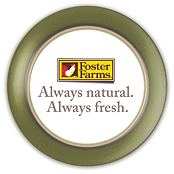 Servings: 8
Prep Time: 495 minutes
Cook Time: 15 minutes
User Rating:

Read User Reviews
Print:
3x5
,
4x6
,
full page
Copyright 2009 Allrecipes.com; by Momzright
Summary
Very easy recipe. I catered an informal wedding for a friend and this was the main dish. It received rave reviews. Serve with rice medley and salad. Good recipe for working folks.
INGREDIENTS
Marinade:
1/4 cup orange juice
1/4 cup vegetable oil
2 tablespoons honey
2 tablespoons finely chopped fresh parsley
1/2 teaspoon dried basil, or to taste
1/2 teaspoon grated orange zest
1/2 teaspoon salt
1/4 teaspoon pepper
Chicken:
8 Foster Farms Boneless Skinless Chicken Breast Fillets
USER NOTES & RATINGS
9/17/2007 Reviewed by geri

Rate and add Comments
DIRECTIONS
1. In a large resealable plastic bag, mix the orange juice, oil, honey, parsley, basil, orange zest, salt, and pepper. Place chicken in the bag, seal, and marinate in the refrigerator overnight.

2. Preheat the grill for medium heat.

3. Lightly oil the grill grate. Place the chicken on the grill, and discard marinade. Cook chicken 15 minutes, turning once, or until juices run clear.
NUTRITIONAL INFO
| | |
| --- | --- |
| Calories | 211 cal |
| Total Fat | 9.7 g |
| Cholesterol | 67 mg |
| Sodium | 205 mg |
| Carbohydrates | 5.3 g |
| Fiber | 0.1 g |
| Protein | 24.6 g |