Grilled Chicken and Pasta Salad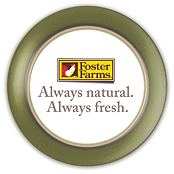 Servings: 4
Prep Time: 15 minutes
User Rating:

Read User Reviews
Print:
3x5
,
4x6
,
full page
Copyright 2005 Allrecipes.com; by Ann Marie Lockwood
INGREDIENTS
4 Foster Farms Boneless Skinless Breast Fillets
steak seasoning to taste
8 ounces rotini pasta
8 ounces mozzarella cheese, cubed
1 red onion, chopped
1 head romaine lettuce, chopped
6 cherry tomatoes, chopped
DIRECTIONS
1. Preheat the grill for high heat. Season both sides of chicken breast halves with steak seasoning. 2. Lightly oil the grill grate. Grill chicken 6 to 8 minutes per side, or until juices run clear. Remove from heat, cool, and cut into strips. 3. Meanwhile, place the rotini pasta in a large pot of lightly salted boiling water. Cook 8 to 10 minutes, until al dente. Drain, and rinse with cold water to cool. 4. In a large bowl, mix together the cheese, onion, lettuce, and tomatoes. Toss with the cooled chicken and pasta to serve.
NUTRITIONAL INFO
| | |
| --- | --- |
| Calories | 501 cal |
| Total Fat | 13.1 g |
| Cholesterol | 100 mg |
| Sodium | 563 mg |
| Carbohydrates | 47 g |
| Fiber | 4 g |
| Protein | 46.9 g |