Party Platter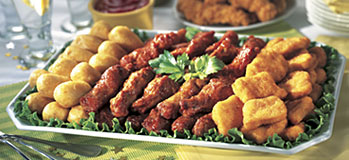 Entertaining made easy — with spectacular party trays using Foster Farms.
A great party platter is a work of art. Now you can have fun creating easy, delicious and great looking party trays using our tremendous variety of Foster Farms cooked chicken items.
Save time on party preparation by serving Foster Farms crowd-pleasing cooked chicken items. In less than 20 minutes you can assemble the perfect holiday platter with an array of offerings from Hot 'N Spicy Wings to Crispy Strips. Whether appealing to kids with Honey BBQ Wings or spicy food fanatics with Buffalo Strips, Foster Farms gives you all the options you need to compliment your other dishes. Add Mini Corn Dogs for some extra holiday grins! Now comes the fun part—arrange them all on a festive dish with your favorite dipping sauces and fun garnishes to add color, variety, and that extra pizzazz to your party platter.
And why limit your creativity to just parties? When you need fast and easy dinner, but still want to have fun at the table, try Foster Farms Cooked Chicken or Mini Corn Dogs for a quick family meal. Garnish them with carrot and celery sticks for added nutrition. Serve it all on a special platter, sprinkle confetti on the table, and voila -- a fun, easy, and memorable family dinner is served.