Premarinated in a delicious, all natural zesty lemon herb flavor, these fillets cook in as little as 8 minutes and are 98% fat free for a quick and healthy meal that's easy to prepare. Finally, great taste gets more convenient.
ALLERGEN INFORMATION
No added MSG, with the exception of naturally occurring minimal amounts in hydrolyzed soybean protein.
GREAT RECIPES WITH THIS PRODUCT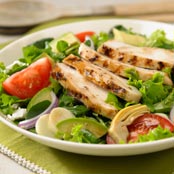 Fancy Mixed Greens Salad with Chicken