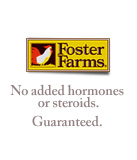 SERVING SUGGESTIONS
Simply add a favorite side dish and dinner's ready.
BBQ on the grill for a wonderful natural flavor.
Great for year-round grilling.
Slice turkey tenderloins into 1-inch strips and stir fry with fresh vegetables such as carrots, peppers, snap peas for a delicious and healthy stir-fry and serve with rice.