Papaya Chicken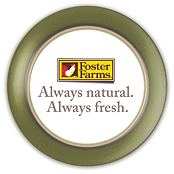 INGREDIENTS
6 Foster Farms Fresh & Easy Boneless Skinless Chicken Breast Fillets
Papaya Butter:
2 medium papayas
1 tablespoon mango chutney
1/2 cup butter, softened
2 tablespoons lemon juice, divided
pinch of ground ginger
pinch of cayenne pepper
pinch of ground cloves
pinch of salt
DIRECTIONS
1. Cut papayas lengthwise, remove seeds and fiber, peel and dice. Finely chop 2 oz. of papaya to use in papaya butter. Sprinkle remaining papaya with 1 tablespoon lemon juice. Set aside for salad. 2. To prepare papaya butter, thoroughly blend chopped papaya, chutney, butter, lemon juice, ginger, cayenne pepper, cloves, and salt. Melt in saucepan. Brush generously over chicken. 3. Cook on a rack over hot coals 7 to 8 minutes on each side, basting frequently with papaya butter. Garnish or serve with tropical salad.