Foil Baked Turkey Breast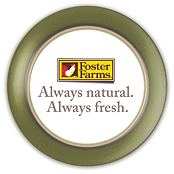 Servings: 4
Prep Time: 10 minutes
Cook Time: 90 minutes
User Rating:

Read User Reviews
Print:
3x5
,
4x6
,
full page
Foster Farms Recipe
Summary
Cook your turkey in foil for even more tender meat! The special seasonings in this recipe top off the tender turkey breast. Enjoy with a side salad.
INGREDIENTS
Turkey:
1 Foster Farms Turkey Half Breast (about 2 lbs.)
Seasonings:
salt
2 tablespoons butter or margarine
2 tablespoons grated Parmesan cheese
2 teaspoons flour
1/4 teaspoon dill weed
1/4 teaspoon basil, crumbled
1/8 teaspoon pepper
USER NOTES & RATINGS
3/30/2013 Reviewed by Frank Dickman Jr

1/1/2007 Reviewed by evelyn orthwein

Rate and add Comments
DIRECTIONS
1. Sprinkle under side of turkey breast lightly with salt.

2. Cream butter, cheese, flour, herbs, 1/2 teaspoon salt and pepper together. Spread over skin of turkey.

3. Place on sheet of heavy foil. Bring edges together up and over meat and fold over twice. Fold ends twice to seal. Place packet on shallow pan.

4. Bake in a 350 degree oven for 1 1/2 hours. 5. Open foil carefully, and pour off juices. Slice meat, and serve with juices.