Roast Turkey Breast with Port Wine Sauce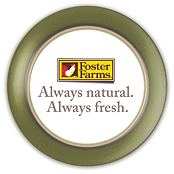 Summary
A great recipe to serve to company! This elegant roast turkey in port wine sauce is simply divine.
INGREDIENTS
Turkey Breast:
1 Foster Farms Half Turkey Breast
1 cup orange juice
1/4 teaspoon ground ginger
dash ground red pepper
peel of 1/2 an orange, very thinly sliced
salt and pepper to taste
Sauce:
1/4 cup port wine
1/4 cup plum jam
2 teaspoons soy sauce
Garnish:
thin orange slices
DIRECTIONS
1. Place turkey breast skin side up in a baking pan.

2. Combine orange juice, ginger, red pepper and orange peel and pour over the turkey breast. Season turkey breast lightly with salt and pepper.

3. Roast at 375 degrees for 1 1/4 to 1 1/2 hours or until meat thermometer in thickest part of breast registers 165 to 170 degrees.

4. Remove turkey to platter and keep warm.

5. Blend remaining ingredients into pan liquid and boil rapidly until sauce is reduced and syrupy.

6. Garnish turkey breast with orange slices. Glaze turkey with some of the sauce and serve with the remaining sauce.