Big Al's Chicken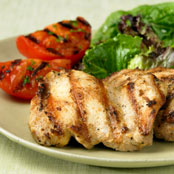 Servings: 10
Prep Time: 505 minutes
Cook Time: 20 minutes
User Rating:

Read User Reviews
Print:
3x5
,
4x6
,
full page
Copyright 2009 Allrecipes.com; by Al Cook
Summary
This flavorful marinade works well on breasts or thighs, and will keep your chicken perfectly moist.
INGREDIENTS
Marinade:
1 cup vegetable oil
1/2 cup apple cider vinegar
1/4 cup egg substitute
1 teaspoon garlic powder
1 teaspoon ground paprika
1 teaspoon poultry seasoning
1 tablespoon salt
1 teaspoon black pepper
Chicken:
10 Foster Farms Skinless Chicken Thighs
DIRECTIONS
1. In a jar with a lid, combine the vegetable oil, apple cider vinegar, egg substitute, garlic powder, paprika, poultry seasoning, salt, and pepper. Close the lid, and shake to blend. Place chicken in a shallow glass baking dish. Pour about 3/4 of the marinade over it, and reserve the rest for basting. Cover chicken, and refrigerate 8 hours, or overnight. 2. Preheat grill for high heat.

3. Lightly oil the grill grate. Place chicken on the grill, and discard marinade from the dish. Cook the chicken for 10 minutes on each side, or until juices run clear. Brush reserved sauce onto chicken just before serving.
NUTRITIONAL INFO
| | |
| --- | --- |
| Calories | 299 cal |
| Total Fat | 27.1 g |
| Cholesterol | 44 mg |
| Sodium | 750 mg |
| Carbohydrates | 1.3 g |
| Fiber | 0.1 g |
| Protein | 12.9 g |