Crispy Chicken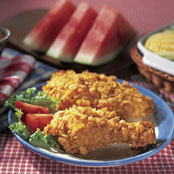 Servings:
Prep Time: 10 minutes
Cook Time: 45 minutes
User Rating:

Read User Reviews
Print:
3x5
,
4x6
,
full page
Foster Farms Recipe
Summary
This oven-baked dish uses Foster Farms Whole Cut Up Chicken. Corn flakes and butter make up a delicious batter that keeps the chicken nice and moist. This dish takes about 55 minutes to prepare and cook.
INGREDIENTS
1 Foster Farms Whole Cut Up Chicken
Batter:
6 cups corn flakes
3 teaspoons salt
3 teaspoons pepper
1 cup butter
3 eggs beaten
USER NOTES & RATINGS
7/25/2006 Reviewed by Jen

3/13/2006 Reviewed by Lee Hand

5/23/2005 Reviewed by Ken

5/18/2005 Reviewed by laura

Rate and add Comments
DIRECTIONS
1.Place corn flakes in ziplock bag and seal. Use roller and crush flakes. Add salt and pepper to corn flakes. Set aside.

2.Roll fresh chicken pieces in butter, then egg. Coat with corn flakes.

3.Place chicken in non-stick baking dish. Bake at 400°F for 45 minutes until chicken reaches 165°F and is no longer pink inside.