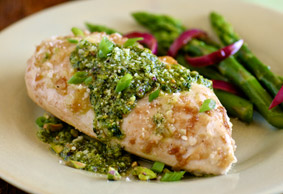 Makes: 4 servings
Total Time: 1 hour
Hands-On Time: 15 minutes

For the chicken:
1/4 cup olive oil
1 head garlic, 10 to 12 cloves, smashed, and skins discarded
Juice of 1 lime, about 4 teaspoons
1 medium yellow onion, finely chopped, about 1 cup
1/2 cup dry white wine
Kosher salt and freshly ground black pepper
2/3 cup low-sodium chicken broth or water
3 pounds boneless, skinless Foster Farms® fresh chicken breasts, about 4 large breasts
For the pesto:
1/3 cup olive oil, plus more for garnish
1/2 cup roasted, salted, shelled pistachios
1 jalapeno, seeds removed, roughly chopped
1/2 small clove garlic, peeled
Juice of 1/2 lime, about 2 teaspoons
Kosher salt and freshly ground black pepper
1 cup fresh mint leaves
2 scallions, trimmed and thinly sliced
1/2 cup grated pecorino cheese, plus more for garnish
For the chicken:
Heat the oven to 350°F and arrange a rack in the middle. Combine olive oil, a pinch of salt, a few cranks of pepper, the garlic, lime juice, onion, wine and broth in a blender or food processor and process until very smooth.
Place chicken in a large (about 13-by-9-inch) ovenproof baking dish. Season with a few pinches of salt. Then pour the garlic mixture on top and cover with aluminum foil.
Place dish into oven and bake for 15 minutes. Pull back the foil and baste the chicken by spooning the garlic mixture over the chicken. Cover the dish with the foil and return to oven and continue to cook, basting the chicken every 15 minutes. Cook until the chicken is cooked through and the juices run clear when pierced with a sharp knife, about 35 to 45 minutes total. Meanwhile, make the pesto.
For the pesto:
Combine the olive oil, pistachios, jalapeno, garlic, lime and a pinch of salt in a small food processor and pulse until coarsely ground.
Add a pinch of pepper, the mint and half of the scallions. Process until well combined but finely ground and not totally smooth. Add a splash of water and the cheese and pulse to just incorporate (you want the pesto to remain pretty loose and to have a finely ground texture – it will not be totally smooth).
Taste and add more salt or pepper as desired. (Pesto can be made up to 4 days ahead of time. Store refrigerated in an airtight container until ready to use.) Serve the chicken topped with a large dollop of pesto and a pinch of the remaining scallions, and drizzle with a little olive oil.
For additional recipes from Humane Table chefs, visit
www.humaneheartland.org/the-humane-table.