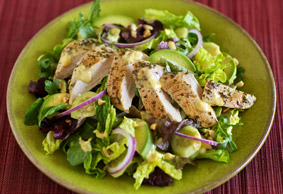 Makes: 4 servings /
3/4 cup dressing
Total Time: 30 minutes
Hands-On Time: 30 minutes

For the chicken:
4 boneless, skinless Foster Farms® fresh chicken breasts, about 2-1/2 pounds
2 tablespoons olive oil, plus more for drizzling
3/4 teaspoon roughly chopped fresh thyme leaves
2 tablespoons finely chopped fresh flat-leaf parsley
Juice and zest of 1 lemon
Kosher salt and freshly ground black pepper
For the dressing:
1 large ripe mango, peeled, pitted and roughly chopped
4 teaspoons plain yogurt
3 tablespoons rice wine vinegar
1 teaspoon Dijon mustard
1/4 teaspoon kosher salt
1/8 teaspoon freshly ground black pepper
For the salad:
1/2 head red or green leaf lettuce, trimmed and torn into bite-size pieces (8 cups)
3 ounces baby arugula (about 2-1/2 loosely packed cups)
1 cup packed watercress leaves
1/4 cup snipped fresh basil, mint, or chives
1/3 cup thinly sliced red onion
2 Japanese cucumbers, trimmed and thinly sliced
1 medium avocado (optional)
1/4 cup toasted peanuts, chopped for garnish
For the chicken:
Sprinkle a little water in four medium-size resealable plastic bags. Place one chicken breast in each bag, push out the air, and seal it. Use meat mallet or the bottom of a heavy pot or pan, and gently pound each chicken piece until about 1/2-inch thick and even throughout.
Heat a large nonstick skillet over medium-high heat. Meanwhile, drizzle the chicken with enough oil to just coat it. Stir together chopped herbs, lemon zest, juice, 1 teaspoon salt and 1/2 teaspoon freshly ground pepper. Rub the chicken and coat evenly with the herbs and seasonings. Then wash hands with hot water and soap.
Meanwhile, heat a large, heavy-bottomed pan or cast iron skillet over medium-high heat. Place the chicken in the skillet. You may have to cook it in two batches. Cook chicken until juices run clear when pierced, about 4 to 5 minutes on each side. Cover cooked chicken with foil while you cook the remaining chicken.
For the dressing:
Combine chopped mango, yogurt, vinegar, mustard, salt and pepper in a blender. Cover and blend until smooth. Stir in a spoonful or two of water to help loosen the dressing. Taste and season, as needed, with salt and pepper. (Can be made up to 4 days ahead and stored refrigerated in an airtight container.)
For the salad:
Combine the lettuce, arugula, watercress and herbs in a large salad bowl. Toss gently and set aside.
Transfer the chicken breasts to a cutting board and slice the chicken breasts into 1/2-inch slices on the bias. Divide the salad greens between four salad plates. Top each with a scattering of onions and cucumbers.
Slice the avocado into 1/2-inch slices and divide among the plates. Drizzle equal amounts of dressing on top of the salads, about 2-1/2 tablespoons on each salad. Top with the sliced chicken, sprinkle with peanuts, and serve.
For additional recipes from Humane Table chefs, visit
www.humaneheartland.org/the-humane-table.