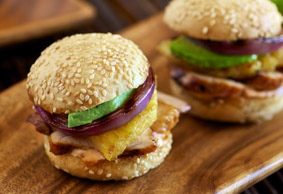 Makes: 12 sliders
Total Time: 45 minutes,
plus 3 to 4 hours for marinating
Hands-On Time: 45 minutes

For the chicken:
1/2 cup pineapple juice
1/2 cup soy sauce
1/4 cup packed honey
3 tablespoons red wine vinegar
4 scallions, trimmed and minced
4 medium garlic cloves, finely chopped, about 2 tablespoons
1/2 teaspoon freshly ground black pepper
2 pounds boneless, skinless Foster Farms® fresh chicken thighs, about 6
2 tablespoons canola, grapeseed, or peanut oil, plus more for grilling
For the sliders:
1/2 ripe pineapple, peeled, cored and cut into 1/2-inch rings
1 medium red onion, trimmed and cut into 1/2-inch rings
12 slider buns (such as King's Hawaiian bread or Trader Joe's mini burger buns)
1/3 cup good-quality mayonnaise
4 tablespoons chile-garlic sauce (sucas Sriracha)
1 medium ripe avocado (optional)
Combine pineapple juice, soy sauce, honey, vinegar, scallions, garlic and pepper in a medium nonreactive bowl. Whisk until completely incorporated, add chicken, turn to coat in the marinade, cover, and refrigerate 3 to 4 hours.
Brush a grill pan with 2 tablespoons of the oil. Then heat over medium heat. Brush the pineapple and onions with additional oil. Then grill until golden and grill marks are visible, about 5 minutes on each side. Quarter the pineapple pieces when done. Then set onions and pineapple aside on a plate.
Meanwhile, cook the chicken until the juices run clear when pierced, about 4 minutes per side. Transfer to a cutting board, and tent with aluminum foil to keep warm and rest.
Meanwhile, split each slider roll. Then lightly brush the insides with oil before toasting on the grill surface (brushed-side down) for 1 minute. Meanwhile, combine mayonnaise and chile-garlic sauce in a bowl and stir until evenly combined. Slice the avocado into 6 slices on each half, cut crosswise (across the shortest length).
To serve, spread each roll with a thin layer of the chile-garlic mayonnaise. Slice each thigh in half. Top each bun with a piece of chicken and, as desired, pineapple, onion and avocado, and serve.
For additional recipes from Humane Table chefs, visit
www.humaneheartland.org/the-humane-table.